Management Challenges in a World of Flexible Work
03/21/2023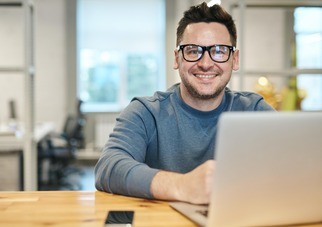 Flexible work arrangements, like for working parents or employees who relocate, have existed for many years in certain companies and industries. Some companies have even utilized remote work options since their inception. However, the COVID-19 pandemic made remote and hybrid work environments the norm, not just options to be used when needed.
When reported cases of COVID-19 began to slow down, organizational leaders started calling employees back to the office for traditional, 9-to-5 work. What they didn't expect to find was how many employees don't want to go back. Gallup found that out of the 8,090 remote-capable employees surveyed, only 6 percent of workers want to work on-site full time. And McKinsey & Company reported that 87 percent of workers (out of 25,000 surveyed in the spring of 2022) say they'd choose a flexible work option if their employer offered it.
Many media outlets depict this mass shift in work culture as a struggle between employers and employees. But there is no consensus on which type of work arrangement is better. Neither returning to the office nor flexible work options are best for every organization, team, or individual employee. That's why managers and business leaders should prepare for continuing discussions on whether flexible work arrangements are the right choice for their organization.
Biggest Challenges for Managing Flexible Work Arrangements
Leaders at every level of an organization must understand pressing challenges regarding flexible work arrangements so that they can better communicate expectations, collaboratively solve problems, and preserve a positive and productive work culture.
The biggest challenges to managing these arrangements include:
Finding the Right Flexible Work Arrangement
Every manager should understand each type of flexible work arrangement so they can find the best fit for their teams and the organization as a whole. Some of the most common types of flexible work arrangements include:
Hybrid work, where employees work remotely some days and in the office on others.
Remote work, or telecommuting, which usually means working from home, but can be anywhere that's not the office, such as a coffee shop, library, or coworking space.
Shortened workweeks, where employees work fewer days per week with or without change to the number of hours worked during the day. The most common is the four-day workweek, which in 2022 proved to be a viable option for multiple companies that participated in a trial of this model.
Flextime, which is a dynamic arrangement where employees may choose their own hours as long as they complete work on time or log a certain number of hours during a period.
Job sharing, where two part-time employees split the duties of a single full-time employee in that position.
Snowbird arrangement, which allows employees to move between their normal company location and one in a warmer climate as the seasons change.
Part-time work, when an employee works less than 40 hours per week, or the number of hours an organization considers full time.
Each type of flexible work arrangement has its pros and cons, which can vary from employee to employee, team to team, industry to industry. Leaders at all levels of an organization should review case studies on flexible work arrangements, establish clear expectations for testing new options, and identify ways to keep innovating how employees can better meet the changing needs of their workforce.
Promoting Productivity and Performance
Certain flexible work models make it more challenging for employees to communicate with their teams and the organization. Companies with remote or hybrid employees rely on digital tools, like instant messaging, email, project management platforms, and video conferencing apps to work together. This can lead to too many or too few meetings, meetings that are too long, a lack of participation, and technical difficulties. Some employees may not even be available at the same time due to time zones or differences in hours worked, so communication can be delayed.
To prevent breakdowns in communication, leaders must:
Establish clear communication guidelines for teams and organizations, such as setting away messages, sharing work calendars, and limiting meeting times.
Centralize communication channels and use the same tools across the organization to promote cross-team collaboration.
Maintaining Productivity and Performance
Employees in hybrid or remote working environments may face more distractions, or they may struggle to separate work time from personal time. Both situations can impact their ability to effectively and efficiently complete tasks.
Managers can mitigate issues with productivity and performance if they:
Set quantitative and qualitative metrics for each employee that is informed by their unique work arrangement.
Create standard models or shifts for flextime, hybrid, or remote work setups to promote concurrent work and accountability.
Schedule regular check-ins with employees in a flexible arrangement and focus on how they, as a manager, can help the employee succeed.
Understanding industry-specific needs, and how they affect an individual business, will also help managers support their direct reports in maintaining reasonable flexible work arrangements.
Those who earn an M.B.A. or have prior management experience in their specific field are equipped to identify and prepare for potential productivity issues when assessing flexible work arrangement options for their team. The Flex M.B.A. at MTSU prepares leaders in all fields to manage their teams productivity effectively and know what steps to take when problems arrive. In addition to three industry-specific concentrations, Flex M.B.A. students have the option to choose two electives from a wide variety of fields, from business communication, to education, to management.
Boosting Employee Satisfaction
Flexible work arrangements that have some or all employees out of the office and on different schedules can make it more challenging to build a community between coworkers. A lack of camaraderie between coworkers may hinder employees, both new and current, from being dedicated to the organization's mission and feeling engaged in the company culture.
In addition, some flexible work arrangements blur the lines between personal and work time. A lack of work-life balance can lead employees to feel overworked, stressed, and devalued, which can cause an organization to lose talented employees.
Managers can better avoid these pitfalls when they:
Enforce hard clock-out times and build a culture of not sending messages after work hours.
Set trial periods and goals for employees on flexible work arrangements to ensure the setup is meeting the employee's needs.
Create training programs for new employees to adjust to flexible work arrangements that are part of their position or the company culture.
Limiting Micromanagement
While managers in traditional work environments may micromanage employees, these tendencies may increase when they can't physically see employees working. Micromanagement can make employees feel scrutinized, untrusted, unmotivated, and that they lack autonomy—all of which decrease productivity and performance.
Managers can hold themselves accountable for micromanagement in flexible work arrangements in a few ways:
Check for micromanaging habits, and keep them under control.
Promote employee autonomy by opening the lines of communication for employees and encourage them to reach out when an issue comes up.
Minimize unscheduled check-ins and sending too many messages, emails, or calls throughout the workday so employees have time to complete work.
The Flex M.B.A. at MTSU offers students the opportunity to practice techniques for self-assessment and problem-solving (in addition to skill improvement) through our "Leading Organizations" course. Current and aspiring leaders will explore recent trends in effective leadership and management; the skills that the course teaches can be put to use to support remote employees and limit the harmful impacts of micromanaging.
Today's business leaders must be prepared to handle the continuously changing work environment to best serve their organizations and employees. They must understand all the possibilities of implementing flexible work arrangements and solving the challenges that can come with it. An M.B.A. can provide you with the analytical skills, communication abilities, and industry knowledge you need to tackle the ever-shifting landscape of the workplace.
About the Flex M.B.A. from Jones College
The Flex M.B.A. program from Middle Tennessee State University's Jennings A. Jones College of Business conveniently offers advanced education for both experienced professionals and recent college graduates. You can earn a general M.B.A. or choose from concentrations in Healthcare Management), Strategic Marketing Analytics, or Music Business. The Flex M.B.A. allows for courses to be completed online, on campus, or in a combination of both.
Accredited by the Association to Advance Collegiate Schools of Business (AACSB), the curriculum prepares students to excel in leadership positions and manage emerging challenges in the workplace. Courses in the program are taught by full-time, expert faculty and shaped by active engagement from business leaders. Students explore concepts and skills in accounting, business analytics, management, finance, and much more. They have opportunities for individualized professional development and experiential learning while learning to implement the latest technologies.
---