How MTSU supports local businesses
12/02/2022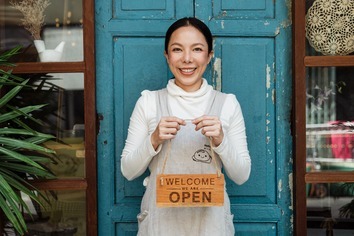 When Leo and Lillie Millan opened The Press, a coworking space in Clarksville, Tennessee, they encountered the usual obstacles facing new businesses, all exacerbated by the uncertainty of a pandemic. The Tennessee Small Business Development Center (TSBDC) helped the Millans persevere in the face of adversity through market research that gave them a deeper understanding of how to meet the needs of small businesses.
Starting a business is not easy, even when leaders aren't dealing with disruptions from a global health crisis, and it's vital to have resources in your community. That's why the MTSU Jennings A. Jones College of Business hosts the TSBDC network, accredited by the National Association of Small Business Development Centers.
The Jones College of Business supports Tennessee's small businesses in a variety of ways:
We provide exceptional business education, ranking in the top 1.5% of the world's b-schools and accredited in both business and accounting by AACSB International.
Our more than 18,000 alumni fuel the region's economy as they work in greater Nashville and middle Tennessee. One in five degreed workers in the greater Nashville area is an MTSU alumnus.
We prepare the next generation of leaders by partnering with large and small businesses to offer internships and help graduates find placements.
Read on to learn more about how Jones College and the TSBDC make an impact in the local small business community.
Consulting and training services to help businesses grow
TSBDC is dedicated to helping Tennesseans access the expertise they need to start, grow, and sustain their businesses. The Center offers consulting and training services, including guidance on the following:
For Existing Businesses
Business expansion
Capital infusion
Cash-flow management
Customer service
Government procurement
Human resource
For New Businesses
Banking needs
Business plans
Human resources
Market research
Ownership structure
Sales and marketing
During the pandemic, TSBDC assisted small businesses seeking to access COVID-19 relief funds. With free counseling, owners learned whether they qualified for emergency assistance from the federal government. These businesses benefited from guidance on how to apply to the Paycheck Protection Program, which provided loans backed by the U.S. Small Business Administration to keep workers employed, as well as the economic injury disaster loans (EIDL) provided under the Coronavirus Aid, Relief, and Economic Security (CARES) Act. These efforts saved more than 6,000 jobs statewide.
In turn, TSBDC clients strengthen the Tennessee economy and job market. From 2019 to 2020, organizations working with TSBDC added over 18.5 million dollars in incremental sales to the state.
Flexible graduate education for small business leaders
The MTSU Flex M.B.A is an AACSB-accredited degree featuring courses taught by expert faculty trained in digital management. The program emphasizes individualized professional development, experiential learning, and the latest technologies with a curriculum that's applicable to businesses both big and small.
Barry Campbell, a graduate from MTSU with a bachelor's in exercise science, came to Jones College to pursue a Flex M.B.A. with an optional concentration in Healthcare Management. His work in the fitness industry had been disrupted by COVID, and he seized the chance to cultivate the skills he needed to grow his personal training company. He found concepts like Lean, a set of management principles for boosting efficiency and cutting waste, enormously helpful in reaching for his goals.
The program offered Campbell opportunities to take on projects that were relevant to his goals.
"We completed a corporate project with Thompson Machinery that allowed us to model what a consulting company would do when coming into a corporate setting," he said. "It allowed us to think in a revenue-based mentality while navigating the back and forth with the company and industry leaders to create a positive outcome."
Campbell feels that the Flex M.B.A. program has helped him move quickly and effectively to open a facility for his small business, Tri Fit Murfreesboro.
"I hope to create a concept of preventative, active care, and post-care rehab under one building and then scale it. We have opened our first location, and many of the skills learned in the Flex M.B.A. program has expedited that process."

– Barry Campbell, MTSU Jennings A. Jones College of Business Flex M.B.A. alumnus and small business owner.
Rewarding the next generation of entrepreneurs
The MTSU Business Plan Competition helps students and alumni launch new business ventures, including businesses, nonprofits, corporate entrepreneurship, and social enterprises.
In addition to monetary prizes, participants benefit from:
– An enhanced learning experience
– Helpful feedback on their ideas
– An opportunity to network
– Exposure to potential investors
The 2022 competition was the first in-person event since 2019. MTSU graduate student and U.S. Army veteran Jessie Buntin emerged victorious. Buntin co-owns Butin Custom LLC–a custom cabinetry business–with her husband. She impressed judges with a presentation that covered the company's assets, expenses, and projections for expansion as well as a Strengths, Weaknesses, Opportunities, and Threats (SWOT) analysis.
"I have so much faith in my husband's product, and now I'm building a lot of confidence in my business skills," said Buntin.
"When some young entrepreneur asks me what's the key to success, I tell them, 'Fail often and fast, because you only have to be right one time to change your life and the world."

– Chuck McDowell, Business Plan Competition judge and CEO of Wesley Financial Group LLC.
As the world returns to a "new normal," small businesses will continue to have new challenges to overcome. The resources that Jones College of Business and TSBDC provide may be integral in the success of Tennessee businesses.
About MTSU and Jones College of Business
Located in Murfreesboro, Tennessee, Middle Tennessee State University delivers a unique blend of world-class education, personal attention, and value to over 20,000 students. MTSU is the top choice for Tennessee transfer students, the biggest provider of graduates to the Greater Nashville-area economy, and the home of the state's largest adult degree program. Princeton Review ranks MTSU among the 388 Best Colleges and one of the Best Regional Colleges in 2023. As the home of the Charlie and Hazel Daniels Veterans and Military Family Center and the state's first VetSuccess On-Campus program, the University has a reputation for welcoming current and former service members.
MTSU's Jennings A. Jones College of Business is among the top 1.5% business schools in the world with Association to Advance Collegiate Schools of Business (AACSB) accreditation in both accounting and business.
Our faculty of award-winning educators, researchers, and entrepreneurs provide students with cutting-edge education in management, finance, big-data tools, and business communication.
---