Careers in Music Business with an M.B.A.
06/27/2021
The music business is all about collaboration, starting with the songwriters, band members, producers, and recording engineers who contribute to creating a piece of music. Then there are the other individuals and organizations involved in getting that record pressed to physical media, packaged, released to stores, played on the radio, digitally streamed, and performed live on tour.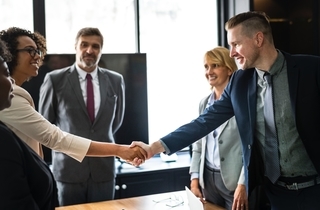 Professionals build their careers in music business on a foundation of mutually beneficial connections among musicians, record labels, media outlets, and fans. Business experts who are familiar with advanced concepts in management and finance, as well as the unique characteristics of the recording industry, can have a major role in helping companies and artists thrive. Earning a Master of Business Administration with a concentration in Music Business may make it possible to work in a field you're passionate about while pursuing rewarding opportunities in a variety of different roles and organizations.
---
List of Careers in the Music Business
Account manager
Artist manager
Artist relations manager
Artist and repertoire manager
Business manager
Copyright administrator
Development associate
Event operations coordinator
Label manager
Marketing director
Publicity director
Talent agent
Talent buyer
Visit our careers page to learn about the services available to online students through Middle Tennessee State University's Career Development Center.
---
What Jobs are There in the Music Industry?
It takes individuals with a wide variety of skills to drive successful outcomes for musical artists and organizations such as record labels, music publishing companies, and management firms. These are some of the most common job titles for professionals who enter careers in music business with a degree in business:
Artist Manager
Tending to the needs of artists so they can focus on writing, recording, and performing music may require the efforts of several different types of managers. While some musicians have just one or two trusted advisors, others maintain an extensive staff. Management professionals can build their own careers by facilitating vital relationships, negotiating agreements, and offering expert advice on business affairs. As of May 2017, the Bureau of Labor Statistics reported that agents and business managers in the sound recording industries earned an average salary of $75,420.
Personal Manager
A personal manager is often the most crucial member of an artist's support staff, highly involved in setting both the daily agenda and long-term strategy. This role involves advocating for a client's interests in business negotiations and offering guidance and support through every major decision-making process. A manager may work with other stakeholders to plan record releases, tours, and merchandising, as well as identify new revenue streams or creative approaches to promote an artist's brand.
Business Manager
Taking responsibility for an artist's business affairs requires a knowledge of accounting practices, finance and the law. These managers track royalties and other income, conduct negotiations, file tax returns, and oversee payments to third parties. A business manager often works closely with an artist's personal manager and entertainment attorney to improve overall earnings.
Artist Relations Manager
Rather than working for an artist, these professionals may be employed by a record label, a maker of musical equipment or any other company that relies on maintaining a strong connection with musicians, singers, and producers. Artist relations managers (ARMs) act as a main line of communication between the two camps and may become deeply involved in planning initiatives in areas like marketing and publicity. By collaborating with other departments in their company and an artist's own management team, an ARM keeps everyone on the same page.
Artists and Repertoire Manager
At a record label, the artists and repertoire (A&R) department identifies and signs new talent. For the rest of an artist's relationship with the company, A&R representatives are heavily involved in setting the course for their career. That can mean collaborating with other departments on marketing and promotion, combing through songs submitted for recording consideration by outside writers, networking with producers, and keeping the process of making an album on schedule.
An A&R manager supervises the activities of representatives and is heavily involved in setting the terms for record deals. As departmental leaders, they nurture connections within the label that can benefit an artist and take a big-picture view of strategy. A&R managers must be highly capable networkers and communicators who can effectively negotiate contracts and maintain a budget.
Copyright Administrator
When an artist records a previously copyrighted song or a track appears in a movie, video game, or commercial, the publisher collects royalties. The publishing company then pays songwriters (and, when applicable, artists and producers) in accordance with their agreement. A copyright administrator is the person who ensures that third parties properly license the songs they use and submit the correct amount. Accurately coordinating royalties requires careful bookkeeping, and obtaining payment calls for skills in communication and problem-solving.
Marketing Director
The marketing departments for record labels and other music businesses create and deploy advertising campaigns to get the word out about albums, singles, and tours. A marketing director guides the creative development of compelling ads that are on-brand for the organization and artists. This leader strategizes placements through a variety of channels, from promotions on streaming music services to billboards, to enhance visibility and sales while staying within a budget.
In 2016, the BLS projected 10 percent growth in positions for advertising, promotions, and marketing managers over the next 10 years, faster than the average rate for all occupations of 7 percent. Across all industries, professionals in this field made a mean salary of $132,620 in 2018.
Publicity Director
In addition to purchasing advertising, music businesses rely on press coverage to inform the public about new and upcoming projects. A publicity director manages the team of publicists who write news releases, arrange interviews, plan photo sessions, and perform other tasks that attract positive coverage. Leaders of publicity departments must be highly capable in communicating to a variety of audiences, managing a staff, and nurturing professional relationships.
Talent Buyer
Talent buyers are employed by venues or hired by the management of an event to book performers. They must consider the budget available for booking acts and what artists will appeal to the audience when developing a bill. Buyers often collaborate with booking agents who work on behalf of artists, and they may also be involved in tasks like hiring a production team and obtaining equipment.
---
M.B.A. Education for Music Business Leadership
Earning an M.B.A. helps people working in a variety of organizations progress into leadership roles. However, business careers in the music industry call for specialized knowledge of the financial, legal, and strategic issues that impact artists and companies. Professionals can advance their careers by developing advanced business skills with a focus on how to apply management principles and quantitative research to solve problems in the music business.
The Jennings A. Jones College of Business at Middle Tennessee State University offers an online Flex M.B.A. with an optional Music Business concentration available in a hybrid format. Students can complete all requirements for the general M.B.A. online and develop their understanding of the industry through on-campus courses in close proximity to both Nashville and the site of the Bonnaroo Music and Arts Festival. Expert faculty teach research-oriented classes and offer one-on-one mentorship, preparing students to bring cutting-edge business insights in music-oriented organizations.
---
About MTSU and Jones College of Business
Located in Murfreesboro, Tennessee, Middle Tennessee State University delivers a unique blend of world-class education, personal attention, and value to over 20,000 students. MTSU is the top choice for Tennessee transfer students, the biggest provider of graduates to the Greater Nashville-area economy, and the home of the state's largest adult degree program. Princeton Review ranks MTSU among the 388 Best Colleges and one of the Best Regional Colleges in 2023. As the home of the Charlie and Hazel Daniels Veterans and Military Family Center and the state's first VetSuccess On-Campus program, the University has a reputation for welcoming current and former service members.
MTSU's Jennings A. Jones College of Business is among the top 1.5% business schools in the world with Association to Advance Collegiate Schools of Business (AACSB) accreditation in both accounting and business.
Our faculty of award-winning educators, researchers, and entrepreneurs provide students with cutting-edge education in management, finance, big-data tools, and business communication.
---