Benefits of an M.B.A. concentration
07/19/2022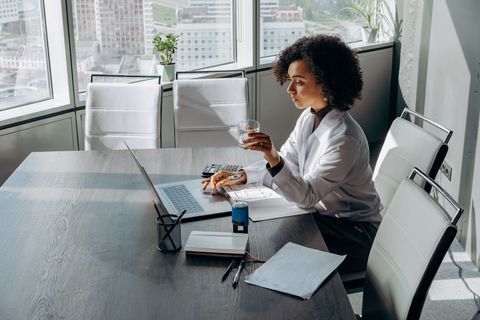 The demand for effective and qualified managers is increasing across many industries. Overall, The U.S. Bureau of Labor Statistics (BLS) projects the number of available management positions will grow by 9% from 2020 to 2030, creating more than 900,000 new management roles.
With this job market, many professionals are looking to gain new qualifications, like a Master of Business Administration, to secure high-growth and high-paying roles. In fact, a 2022 study from the Graduate Management Admission Council (GMAC) shows that 9 in 10 graduates said earning an M.B.A increased their employability.
In terms of overall employment, some of the highest growing fields include healthcare, arts and media, business, and finance. Managers play a vital role in each of these industries. The BLS reports that over the span of 2020 to 2030, medical and health services managers are expected to see a 32% increase in jobs. Open positions for financial managers and similar roles are expected to rise 17%, while growth for advertising, promotions, and marketing managers is projected at 10%. To gain the skills and qualifications for roles in these fields, you might consider an M.B.A. program with concentration options. In a specialized degree program, you can both study general business functions and take courses focused on industry- or role-specific issues.
---
Key benefits of pursuing an M.B.A. concentration
While an M.B.A. concentration isn't for every professional, these degrees can prepare many people with the skills they need to pursue their dream careers. Here are some of the most important benefits of a concentration:
Developing specialized skills and knowledge
A general M.B.A. program encompasses a variety of important business functions, while an M.B.A. with a concentration lets you focus more on learning the skills that matter most to your ideal career.
You'll gain must-have professional and interpersonal skills for your target role and, with some M.B.A. concentrations, your target industry. That's because your coursework and projects explore the issues, problem-solving techniques, and other information specific to that industry and workplaces therein. This focus can help you stay more engaged with the curriculum, which is important for staying motivated during challenging M.B.A. programs.
Streamlining your career path
Some professionals may gain the necessary skills, knowledge, and experience to enter management by working in the industry over many years. But you can reduce the amount of time it takes to qualify for advanced roles by pursuing an M.B.A. concentration. According to the GMAC survey, 68% of surveyed graduates said their M.B.A. helped them more quickly advance their career.
You can complete an M.B.A. program, thereby developing the business skills necessary for your target role or industry, in one to three years. This time frame depends on how many credits your chosen M.B.A. program requires and whether you attend full- or part-time.
Getting qualified for top industry roles
Completing a specialized M.B.A. program can reduce the learning curve for many positions, including those that typically require years of work experience. That means you may qualify for your ideal career or a job that puts you closer to it right after graduation.
Some M.B.A. concentrations are broad enough to qualify you for top positions in a variety of industries. Graduates with an M.B.A. in finance may work as a financial analyst or controller and eventually gain enough experience to join the C-suite. A marketing M.B.A. concentration prepares you for responsibilities as a market research analyst or marketing manager, among other roles.
Industry-specific M.B.A. concentrations prepare you for multiple roles within that industry. For example, with an M.B.A. in music business, you can find careers in talent management, marketing, and executive management. Careers for those with a healthcare management M.B.A. include public relations, administration, and finance, while a strategic marketing analytics M.B.A. can bring high-level opportunities in areas like brand management and communications.
Increasing your earning potential
In general, professionals with an M.B.A. tend to earn higher starting salaries than those without this qualification. The GMAC survey reported that the median starting salary for M.B.A. graduates was $115,000 per year. What's more, M.B.A. graduates tend to earn up to $3 million more over their lifetime than those with a bachelor's degree.
Likewise, an M.B.A. concentration can prepare you for roles within high-paying industries. According to the results of the 2021 U.S. News & World Report survey of full-time M.B.A. programs, the average base salary in many industries was over $100,000. Professionals in the healthcare industry earned an average starting salary of over $116,000, making healthcare management one of the highest paying M.B.A. concentrations. And media and entertainment professionals, including those in the music industry, had an average starting salary of nearly $115,000.
Taking advantage of networking opportunities in your target industry
Getting a generalized M.B.A. allows you to build your network and demonstrate your skills while you take classes, but your new connections will be scattered across multiple industries, including some outside your areas of interest. When you enroll in an M.B.A. program with a concentration, you'll network with instructors and classmates who share your passion and develop connections in your ideal industry.
Standing out to employers and recruiters
Getting an M.B.A. with a concentration can help you stand out to employers looking for candidates who can handle the unique responsibilities of a certain role or industry. That's because an M.B.A. concentration indicates that you've been specially trained in the skills, technology, and problem-solving techniques required to succeed. It also demonstrates serious dedication to and interest in the field.
---
Types of M.B.A. concentrations
Some M.B.A. concentration programs include general business courses as part of the core curriculum and allow you to specialize through electives. Other M.B.A. concentrations may have a core curriculum that focuses on concentration-relevant subjects.
M.B.A. concentrations you can pursue include:
Finance
Working in finance requires skills in analysis, mathematical modeling, and financial strategy as well as soft skills like managing conflict and team building. An M.B.A. with a finance concentration provides well-rounded training in such technical and interpersonal abilities.
These programs include coursework in:
Corporate and international finance
Investment strategy and analysis
Corporate budgeting
Risk management
Marketing
Advanced roles in marketing require proven experience employing marketing technology and strategy. An M.B.A. in marketing can help you build a portfolio of marketing projects and demonstrate your abilities to work with a variety of key stakeholders.
An M.B.A. in marketing program will typically offer the following course topics:
Marketing strategy
Marketing research and analysis
Marketing technology and digital media
Product strategy and branding
Technology management
Technology managers must have development skills, a keen understanding of technology issues, and the ability to lead teams in product development and security emergencies. An M.B.A. concentration in IT management can help you better leverage technology for a variety of business functions, including finance and accounting, management, and marketing.
Pursuing an M.B.A. with a concentration in technology management involves the following courses:
Data analysis, structure, and organization
Cybersecurity
IT management
Product design and development
Healthcare management
Healthcare management professionals can work in a number of business functions that impact patient experience, provider access, and medical technology. An M.B.A. healthcare concentration prepares you to work in a number of management capacities to solve problems unique to healthcare.
Some courses you might take when pursuing an M.B.A. with a concentration in healthcare management include:
Healthcare law and ethics
Healthcare finance and economics
Healthcare marketing
Resource management in healthcare
Music industry management
Similarly to those in healthcare, music industry professionals must be prepared to solve issues specific to their industry, such as public relations, talent marketing , budgeting for albums, and negotiating talent contracts. An M.B.A. concentration in music business can prepare you for managing or overseeing many different functions.
Here are some common course topics you would take when pursuing an M.B.A with a focus on music business:
Foundations of the music industry
Music entrepreneurship
Creative arts law
Branding and marketing
---
Which M.B.A. concentration should I choose?
The best M.B.A. concentration is one that helps you reach your professional goals. You must weigh a number of factors when choosing an M.B.A. concentration and deciding whether an M.B.A. program makes sense for you. These factors include:
Which business roles and functions interest you
Which industry you want to work in
Where you want to live
What you want your work environment to be like
How much you want to earn now and in the future
How much relevant experience you already have
Local industries can be an important consideration when selecting an M.B.A. concentration. As a storied hotbed for the music industry and one of the fastest growing hubs for healthcare, Central Tennessee needs business leaders with specialized knowledge in these areas. That's why Middle Tennessee State University, located just outside of Nashville, offers a Flex M.B.A. program with optional concentrations in healthcare management, strategic marketing analytics, and music business.
---
About MTSU and Jones College of Business
Located in Murfreesboro, Tennessee, Middle Tennessee State University delivers a unique blend of world-class education, personal attention, and value to over 20,000 students. MTSU is the top choice for Tennessee transfer students, the biggest provider of graduates to the Greater Nashville-area economy, and the home of the state's largest adult degree program. Princeton Review ranks MTSU among the 388 Best Colleges and one of the Best Regional Colleges in 2023. As the home of the Charlie and Hazel Daniels Veterans and Military Family Center and the state's first VetSuccess On-Campus program, the University has a reputation for welcoming current and former service members.
MTSU's Jennings A. Jones College of Business is among the top 1.5% business schools in the world with Association to Advance Collegiate Schools of Business (AACSB) accreditation in both accounting and business.
Our faculty of award-winning educators, researchers, and entrepreneurs provide students with cutting-edge education in management, finance, big-data tools, and business communication.
---