Can I get an M.B.A. without having a background in business?
07/02/2021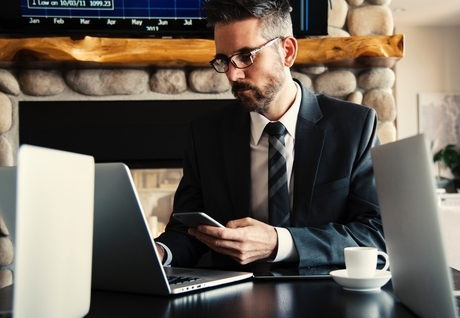 Though people with backgrounds in business are good candidates for an M.B.A., they aren't the only ones who can benefit from this versatile degree. There is a common misconception that you need to have a bachelor's degree in business to get an M.B.A. The truth is that students pursuing an M.B.A without an undergraduate business degree make up an important part of any M.B.A. class as they add to the overall diversity of the program. Thanks to a variety of academic and professional backgrounds, students who don't have a business background bring a unique perspective to M.B.A. classrooms.
Whether you studied business in college or you majored in an entirely different subject matter, an M.B.A. can be a valuable career asset. This degree is often an important differentiator in terms of overall earning potential. Professionals in the U.S. with an M.B.A. earn an average salary of $85,000, according to PayScale.
Here, we examine why M.B.A. programs are suited for today's aspiring business professionals, including M.B.A. programs for non business majors. We'll also cover M.B.A. qualifications and curricula to help you determine what to look for in this graduate degree program.
---
Can non-business majors get an M.B.A.?
Many M.B.A. programs are committed to admitting students from an assortment of undergraduate backgrounds. For example, the Jones College of Business online Flex M.B.A. from Middle Tennessee State University makes diversity within the program a priority by accepting students with a plethora of backgrounds and undergraduate majors.
Having an M.B.A. class made up of students with a variety of professional and academic backgrounds provides a broader range of perspectives, giving students a more well-rounded experience. In addition, having diversity within the program creates opportunities for unique discussions that might not otherwise occur, where students can provide input based on their own work and life experiences.
---
Typical M.B.A. requirements
M.B.A. requirements in the United States for both business and non business majors include an undergraduate degree from an accredited institution, GMAT or GRE scores, a personal statement, and letters of recommendation.
Most bachelor's degrees give you the training you need to enter your field, but they may not have provided all of the tools you'll need to advance. For this reason, an M.B.A. can be especially beneficial for people from fields outside of business. An M.B.A. has applicable management and leadership skills for a variety of industries, including:
business
engineering
government
healthcare
human resources
nonprofit organizations
In addition to new skill sets, M.B.A. candidates from all backgrounds can benefit from the connections they make within their program. The ability to network with faculty and peers is another great way to elevate your career.
---
What you will learn in an M.B.A. program?
An M.B.A. is an excellent way to gain the leadership and management skills you need within your own field. M.B.A. programs differ in curriculum offerings, but many include a combination of core and foundation courses in leadership, advanced business, international business, and professional development.
MTSU's online Flex M.B.A. curriculum focuses on the latest tools and strategies with special attention paid to professional development and persuasive communication. Below is the basic curriculum structure for MTSU's online Flex M.B.A.
MTSU's online Flex M.B.A. curriculum
Foundation courses
Students who have an undergraduate degree outside of business must complete three typical prereq M.B.A. courses:
Survey of Accounting for General Business
Quantitative Methods Survey
Principles of Corporate Finance

Core courses
Students will take core courses including:

Leading Organizations
Managerial Finance
Applied Business Analytics
Decision Making in Accounting and Finance
Supply Chain Operations

Capstone project
The M.B.A. will culminate with a Capstone course in Strategic Business Consulting. This project allows students to work with a real business, report to executives, and receive their feedback.

M.B.A. concentrations

In addition, many M.B.A. programs offer specific concentrations. One of the benefits of a concentration is that it allows you to hone your coursework to meet your specific career objectives. For example, if you work in the medical field, an M.B.A. with a specialization in healthcare might be the most beneficial.

Some of the more popular M.B.A. concentrations include Strategy; Corporate Finance; and Operations. In addition, some schools have even more specialized concentrations that don't always get as much attention, like business in music. For example, Jones College online Flex M.B.A. program offers concentrations in Music Business.

In the Music Business concentration, students focus on important legal and economic issues that affect those in the music industry, including artists, record companies, representatives, and promoters. Music Business courses at MTSU may include Recording Industry Economics and Emerging Business Models; Legals International Entertainment Transactions; and Entertainment Branding.

Jones College online Flex M.B.A. also offers the Healthcare Management concentration. This gives students advanced training to prepare to take on unique challenges in healthcare organizations like hospitals, insurance providers, and pharmaceutical firms. Healthcare Management courses at MTSU may include Health Economics; Healthcare Management; and Healthcare Marketing.

---

About the online Flex M.B.A. from Jones College

The online Flex M.B.A. program from Middle Tennessee State University's Jennings A. Jones College of Business conveniently offers advanced education for both experienced professionals and recent college graduates. You can earn a general M.B.A. online, on campus, or a combination of both. Choose from concentrations in Healthcare Management or Music Business.

Below are some of the requirements for MTSU's online Flex M.B.A. program. It's important for M.B.A. programs to have flexible requirements in order to take a more diverse class of students into consideration.

MTSU's online Flex M.B.A. requirements

Bachelor's degree from a regionally accredited university or college with a minimum GPA of 2.75 on a 4.0 scale
GMAT or GRE scores. The GMAT/GRE requirement may be waived for applicants that meet any of the following conditions:

An earned bachelor's degree from a regionally accredited college or university with a GPA of 3.0 or higher
An earned bachelor's degree from a regionally accredited college or university with a GPA of 2.75 or higher and five or more year of professional/managerial work experience
An earned graduate or professional degree from a regionally accredited college or university

Accredited by the Association to Advance Collegiate Schools of Business (AACSB), the curriculum prepares students to excel in leadership positions and manage emerging challenges in the workplace. Courses in the program are taught by full-time, expert faculty and shaped by active engagement from business leaders. Students explore concepts and skills in accounting, business analytics, management, finance, and much more. They have opportunities for individualized professional development and experiential learning while learning to implement the latest technologies.

---