Healthcare Management Careers with an M.B.A.
06/19/2021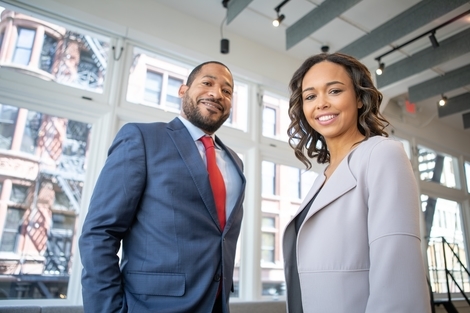 Professionals in healthcare management careers can help patients live longer, fuller lives. But healthcare is also a massive global industry: According to a report from Deloitte, worldwide expenditures exceeded $7 trillion as of 2017 and will likely rise to more than $10 trillion by 2022. With that growth comes major questions about how organizations can continue to invest in emerging technologies, maintain quality of care and deal with larger volumes of patients, all while maximizing efficiency.
Shifts in the industry have resulted in a healthcare management career outlook that holds many possibilities for individuals who combine advanced business skills with specialized knowledge of best practices and regulations. Leaders in hospitals and life sciences firms address complex challenges that make an impact in people's lives while advancing their careers. Earning a Master of Business Administration with a concentration in Healthcare Management could help you to excel in a crucial and rapidly growing industry.
---
Healthcare Management Career Options
Business analyst
Clinical manager
Corporate development associate
Financial analyst
Healthcare consultant
Health information manager
Hospital administrator
Insurance specialist
Medical practice administrator
Mental health program manager
Nursing home administrator
Pharmaceutical brand manager
---
What Careers are Available with an M.B.A. in Healthcare Management?
There are a wide range of positions at the intersection of business and healthcare. Organizations rely on leaders who can apply management principles, connect healthcare providers with resources and fulfill the needs of patients. A healthcare management career path might lead to a wide variety of positions:
Healthcare Administrator
Healthcare administrators work in hospitals, nursing homes, public health organizations, pharmaceutical firms, and medical device manufacturers. They supervise business operations for an entire organization or department, including setting long-term objectives, making strategic decisions, developing budgets, and hiring workers. Administrators must understand the regulations that apply to issues like patient privacy or record-keeping and apply policies accordingly.
Clinical Manager
Clinical managers may supervise a medical office, clinic, or a department within a larger facility. In each of these settings, managers establish and carry out a range of policies and procedures to bring patients the proper care. Clinical managers are often responsible for setting schedules, evaluating the performance of department employees, preparing reports, and arranging the purchase of equipment or supplies.
Health Information Manager
Health information managers specialize in maintaining medical records and data by keeping information systems up to date, making records available to authorized personnel, and monitoring regulatory compliance. They may be responsible for managing revenue cycle, improving the quality of data that's available to care providers, or securing protected health information. In many organizations, these professionals lead teams of medical records and health information technicians.
---
Is Healthcare Management a Good Career?
In the U.S., an expanding older population and leaps forward in information technology have resulted in a rising number of healthcare management jobs. The Bureau of Labor Statistics projected an increase of 20% for medical and health services manager positions between 2016 and 2026, considerably faster than the average of 7% growth for all occupations. These jobs come with chances to take on fascinating, consequential problems and are also financially rewarding. In 2018, the average healthcare management salary was $99,730.
---
Must-Have Skills for Healthcare Managers
To succeed in healthcare management careers, professionals must be prepared for the unique demands of the industry, which involves complex laws and tremendous responsibilities to patients. That means developing advanced knowledge and skills in business leadership, finance, and communication in addition to in-depth knowledge of the health sector and its challenges.
Advanced education can be a critical asset for building these healthcare management skills. For example, the U.S. Department of Labor noted that graduate education is necessary for many roles in medical and health services management.
Different types of organizations and departments need varied expertise from their leaders. However, some of the most crucial requirements for many healthcare management jobs include:
Setting and enforcing policies that meet the needs of an organization while complying with all applicable regulations
Making strategically effective and ethically sound decisions that lead toward long-term objectives
Applying management principles to hire, train, and evaluate teams of personnel in medical, technical, service, and maintenance functions
Planning budgets, controlling spending, and reporting on finances
Using database software to develop and maintain record management systems
Communicating clearly in both speech and writing with stakeholders at all levels of an organization
Healthcare managers are essential to operations in facilities and life sciences organizations. By synthesizing a thorough understanding of the healthcare industry with leadership capabilities, these professionals can change lives while driving growth.
---
About the Online Flex M.B.A. from Jones College
The online Flex M.B.A. program from Middle Tennessee State University's Jennings A. Jones College of Business conveniently offers advanced education for both experienced professionals and recent college graduates. You can earn a general M.B.A. online, or choose from concentrations in Healthcare Management (available 100% online) or Music Business (available in a hybrid format).
Accredited by the Association to Advance Collegiate Schools of Business (AACSB), the curriculum prepares students to excel in leadership positions and manage emerging challenges in the workplace. Courses in the program are taught by full-time, expert faculty and shaped by active engagement from business leaders. Students explore concepts and skills in accounting, business analytics, management, finance, and much more. They have opportunities for individualized professional development and experiential learning while learning to implement the latest technologies.
---