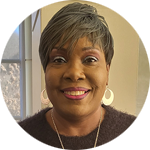 Alesia Johnson
Pronouns: she/her
Current Position: Customer Support Management Specialist
Hometown: Clarksville, TN
Undergrad Degree: Business Administration
Online or On-Campus?: On-Campus
Concentration: General Flex M.B.A.
---
What made you decide to pursue a Master of Business Administration?
My desire is to be a business consultant upon completion of my Flex M.B.A. I decided to continue my education in order to teach classes at an institution.
---
What are your experiences like with faculty, staff and fellow students?
My experience so far with fellow students of different cultures has been great. Working in groups gives you the opportunity to learn from others' experiences.
---
What are some of the most interesting or useful concepts and skills you have learned in the Flex M.B.A. program so far? Please give an example of how you applied what you learned at work.
The accounting class taught me about financial intelligence; from that, I learned how to understand financial statements better.
---
Can you tell me about an interesting project you worked on in the program? Please include the course.
In my marketing class, we used a simulation to create a business from scratch.
---
What goals do you hope to achieve from the Flex M.B.A. program? In what ways is the Flex M.B.A. program assisting you in achieving your goals?
The goal I aim to achieve is to have a clear understanding of business skills and concepts. The Flex M.B.A. program is giving me the tools needed to achieve my goal.
---
What tips do you have for someone as they begin graduate school?
My tip is to be prepared to work in groups and to practice patience as you learn from others and others learn from you. We are all uniquely different.