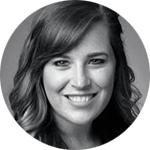 Jennifer Schryer
Pronouns: she/her
Current Position: Senior Manager in Product Management/Marketing
Hometown: Nashville, TN
Favorite book: Maybe You Should Talk to Someone by Lori Gottlieb
Undergrad degree: Economics and Criminal Justice
Online or On-Campus?: Online
Concentration: General Flex M.B.A.
---
What made you decide to pursue a Master of Business Administration?
I have been with my company for eight years. I decided to pursue a Master of Business Administration with the hope to grow as a thinker and leader, and learn about business in different industries.
---
What are your professional and academic goals after completing the Flex M.B.A. program?
The Flex M.B.A. helped me accomplish my original goal of finding a new job at another company. I plan to apply my knowledge and findings by earning a leadership opportunity at my new organization.
---
What has been your favorite course so far?
"Leading Organizations" has been my favorite course. The topics were extremely relevant to my work life; I've been able to apply what I've learned to my everyday work life.
---
Please provide any additional feedback on your overall experience below.
Completing the Flex M.B.A coursework and working full time hasn't disrupted my life: I've been able to maintain personal balance. I am grateful that my professors have been responsive and invested in student learning and success.
---
What hobbies do you have outside of school?
Outside of school, I enjoy spending time with family and friends, practicing yoga, and spending time on our boat on Percy Priest Lake.
---
What made you decide to further your education?
Before this summer, I spent a fair amount of years with my previous employer. Three years ago, I felt like I plateaued and lacked challenge. I was looking for an opportunity to gain perspective outside my organization and develop new skill sets, the Flex M.B.A. gave me exactly that.
---
Why did you select the Flex M.B.A.program at MTSU?
I transferred into the program in summer 2021, after one of my close friends recommended the program at MTSU. I wanted to engage with folks in and around the Nashville area and was looking for a fast-paced environment.
---
How has the online learning experience been for you so far?
I appreciate the online structure and organization of the courses online. It is easy to follow and plan around assignment due dates and course expectations. I currently work from home, so it is easy to wake up early, log on, complete coursework, and switch back to coursework after work to wrap up my day.
---
What are your experiences like with faculty, staff and fellow students?
The faculty in the Flex M.B.A. program have been constructive and open to meeting to brainstorm through any challenges with course objectives or assignments. On average, professors respond to questions within 24 hours, if not within the same day. I've been treated with respect, and professors genuinely empower students to understand and apply course concepts. My fellow students have incredibly diverse backgrounds in various industries and career lengths. Students leave their egos aside and are encouraged to collaborate and grow together.
---
What are some of the most interesting or useful concepts and skills you have learned in the Flex M.B.A. program so far? Please give an example of how you applied what you learned at work.
The "Leading Organizations" course challenged me to identify the type of leader I aspire to be and what leadership I want to follow. The discussions and coursework opened my eyes to the possibility of working with extraordinary leadership, which I felt disconnected from within my ten-year career. I was empowered to apply to different organizations and ask tough questions while interviewing to understand the leadership culture. I am incredibly thankful I could apply those learnings to find a new role with another company that aligns better with my values and aspirations.
---
Can you tell me about an interesting project you worked on in the program? Please include the course.
In MBAI 6905, we created a Tableau Dashboard that analyzed company attrition and presented our findings to a mock CEO. Not only was I able to apply the concepts taught throughout the course, but I was also able to brush up on my presentation skills that are not used as frequently in my marketing role. Before this course, I mainly leveraged Microsoft Excel for all data dashboards. After completing the course, I am excited to explore transitioning my company's dashboards to a more user-friendly experience like Tableau.
---
What goals do you hope to achieve from the Flex M.B.A. program? In what ways is the Flex M.B.A. program assisting you in achieving your goals?
I hope to improve at leveraging my strengths in the workplace, while maintaining confidence in my abilities when faced with a challenge. The Flex M.B.A. program is helping me achieve this through collaborations with classmates to solve a common objective in different scenarios. The courses help formulate a clear path forward to navigate relatable challenges in everyday business environments.
---
What tips do you have for someone as they begin graduate school?
Come with an open mind and embrace what everyone brings to the virtual classroom. Some students recently graduated with their undergraduate degrees, but others have been in the workforce for decades. Everyone has different characteristics and unique perspectives to share and create a collaborative working environment. It's essential to leverage the MTSU and Jones College of Business resources available to grad students. I operate with the mindset that students and faculty are like business partners: everyone is participating to gain insights, expand networks, and learn from each other.