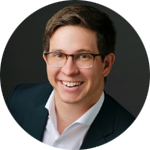 Alex Lundy
Pronouns: he/him
Current Position: Community Development Grant Supervisor
Hometown: Murfreesboro, TN
Favorite Book: War Music by Christopher Logue (Personal); Rethinking the Economics of Land and Housing by Ryan Collins et al. (Academic)
Undergrad Degree: Classics (Latin & Ancient Greek)
Online or On-Campus?: Online
Concentration: General Flex M.B.A.
---
What made you decide to pursue a Master of Business Administration?
I had multiple reasons; I wanted to expand my skill set, the COVID-19 pandemic gave me more time to pursue education, and I was interested in finance as a force for change.
---
What are your professional and academic goals after completing the Flex M.B.A. program?
I want to impact investment strategy and analytics as well as leverage the skills learned in the social and private sectors. I also want to go into sustainable, affordable housing; AG finance; and food security solutions.
---
What is one thing you wish you knew before starting the Flex M.B.A.?
I wish I knew that you can and should take electives when they are available: some electives are rarely offered, so you have to take them while you can.
---
What has been your favorite course so far? Why?
Decision making in accounting and finance was my favorite course. This is because of, as Professor Nagel would say, its expectation for us to "nimbly adapt to unknowns." The practical aspect made it far more valuable than any other course rooted in theory or readings.
---
What made you decide to further your education?
I have the desire to be a continuous learner and for credibility. COVID-19 was also one of the factors.
---
How has the online learning experience been for you so far?
The online learning experience has been incredible; it truly has helped me advance my confidence and learn new technical skills.
---
What are your experiences like with faculty, staff and fellow students?
The faculty are fantastic and the finance professors have been so put together. I also regularly connect with some incredible people that I met through student groups.
---
What are some of the most interesting or useful concepts and skills you have learned in the Flex M.B.A. program so far? Please give an example of how you applied what you learned at work.
Some skills I've learned are leveraging Microsoft Excel using VBA, all of the finance hard and soft skills, and an overview of Six Sigma. Recently, a hypothetical talk at work was about how we could leverage existing investor relationships to develop new cash reserves to support low-income homeowners seeking seismic repairs. I utilized what I learned in the Flex M.B.A. about financial modeling to develop a model for a social impact bond (SIB) market. As a result, we are in conversation to be able to have a dramatic increase in additional funds for residents who need it most.
---
Can you tell me about an interesting project you worked on in the program? Please include the course.
We simulated work with a Fortune 500 company and generated significant cash savings (~400k per year) by developing a financial model for chatbot implementation in the integrated finance and accounting course.
---
What goals do you hope to achieve from the Flex M.B.A. program? In what ways is the Flex M.B.A. program assisting you in achieving your goals?
I'm hoping that this Flex M.B.A. program will help me build confidence, increase my financial intelligence, and instill continuous learning in my life to expand upon in the future.
---
What tips do you have for someone as they begin graduate school?
I suggest being prepared, timewise, for a second job. It can be a heavy lift, even when only taking one to two courses per week.