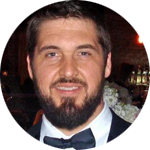 Barry Campbell
Current Position: Owner of Tri Fit Murfreesboro
Hometown: Morristown, TN
Favorite Book: Financial Intelligence by Joe Knight, John Case, and Karen Berman
Undergrad Degree: Exercise Science
Online or On-Campus?: Online
Concentration: Healthcare Management Flex M.B.A.
---
What made you decide to pursue a Master of Business Administration?
The rise of COVID-19 and its disruptions to business.
---
What has been your favorite course so far? Why?
MGMT 6200 because of the real-world application abilities it supplies.
---
Why did you select the Flex M.B.A. program at MTSU?
I was familiar with the university because of my undergraduate degree and felt it was the best fit for me. I am a father of two kids under 10, and I own a business, so a good fit was important.
---
How has the online learning experience been for you so far?
It was definitely an adjustment, but it went well once I got used to online learning.
---
What are your experiences like with faculty, staff and fellow students?
I built relationships with a small group of students and have continued to stay in contact. The teachers were great, though face-to-face meetings were limited due to Zoom.
---
What are some of the most interesting or useful concepts and skills you have learned in the Flex M.B.A. program so far? Please give an example of how you applied what you learned at work.
The concept of LEAN was by far the most useful. I integrated this into my own business, and it was a huge concept that paid off immediately.
---
Can you tell me about an interesting project you worked on in the program? Please include the course.
In the MBAM 6925 course, we completed a corporate project with Thompson Machinery that allowed us to model what a consulting company would do when coming into a corporate setting. It allowed us to think in a revenue-based mentality while navigating the back and forth with the company and industry leaders to create a positive outcome.
---
What goals do you hope to achieve from the Flex M.B.A. program? In what ways is the Flex M.B.A. program assisting you in achieving your goals?
I hope to create a concept of preventative, active care, and post-care rehab under one building and then scale it. We have opened our first location, and many of the skills I learned in the Flex M.B.A. program have expedited that process.
---
What tips do you have for someone as they begin graduate school?
Focus on the concepts and how they apply to your career or future goals, don't get hung up on getting perfect scores.