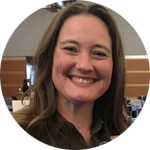 Angela Satterfield
Pronouns: she/her
Current Position: MTSU School of Music Admissions Coordinator
Hometown: Murfreesboro, TN
Favorite Book: Two Part Invention by Madeleine L'Engle
Undergrad Degree: University Studies (College of Education, Business, and Liberal Arts)
Online or On-Campus?: Online
Concentration: General Flex M.B.A.
---
What are your professional and academic goals after completing the Flex M.B.A. program?
I'm looking to increase my knowledge and have more job opportunities.
---
What has been your favorite course so far? Why?
My favorite course so far has to be leading organizations. The content was inspiring, the assignments were clear and well organized, and the final project helped me think through the practical application of the material.
---
Please provide any additional feedback on your overall experience below.
Balancing work with one class at a time has proved to be very manageable.
---
What hobbies do you have outside of school?
Some of my hobbies are: attending Sewanee Football games (my son is kicker/punter) and cross country meets for my 9th grader, teaching/playing violin, watching movies, attending concerts, eating good food, walking my Swiss Mountain dog, Schaefer, and spending time with my husband, family, and friends.
---
What is your career focus?
In the future, I'd like to go more in-depth in customer service, management, and coordination.
---
What made you decide to further your education?
I wanted to connect the dots between my real-life experience as a small business owner and what academia could teach me.
---
Why did you select the Flex M.B.A. program at MTSU?
It was the right time of life to further my education with my kids getting older, and I already work at MTSU, so it made perfect sense to invest in myself.
---
How has the online learning experience been for you so far?
I have found the online learning experience to be organized and reasonable to navigate.
---
What are your experiences like with faculty, staff and fellow students?
For online courses, faculty are very present and available with emails, office hours, video introductions, and Zoom options.
---
What are some of the most interesting or useful concepts and skills you have learned in the Flex M.B.A. program so far? Please give an example of how you applied what you learned at work.
One of the tools I learned to understand was Excel, and learning to navigate the many tools it provides. One example is splitting a full name on a spreadsheet into first and last name columns. Simple, but extremely helpful in my office.
---
Can you tell me about an interesting project you worked on in the program? Please include the course.
In one of the marketing courses we took, our teams simulated opening bike shops around the world. It was challenging, but interesting, to create, price, and market the products in different countries with different seasons and lifestyles.
---
What goals do you hope to achieve from the Flex M.B.A. program? In what ways is the Flex M.B.A. program assisting you in achieving your goals?
I would like to see how my small business experience of 10+ years taught compares to my classroom education. My goal is to have the option to expand my opportunities in the future. I enjoy the game of business!